Today's Success is Tomorrow's Disaster
boardgame
2018 - ongoing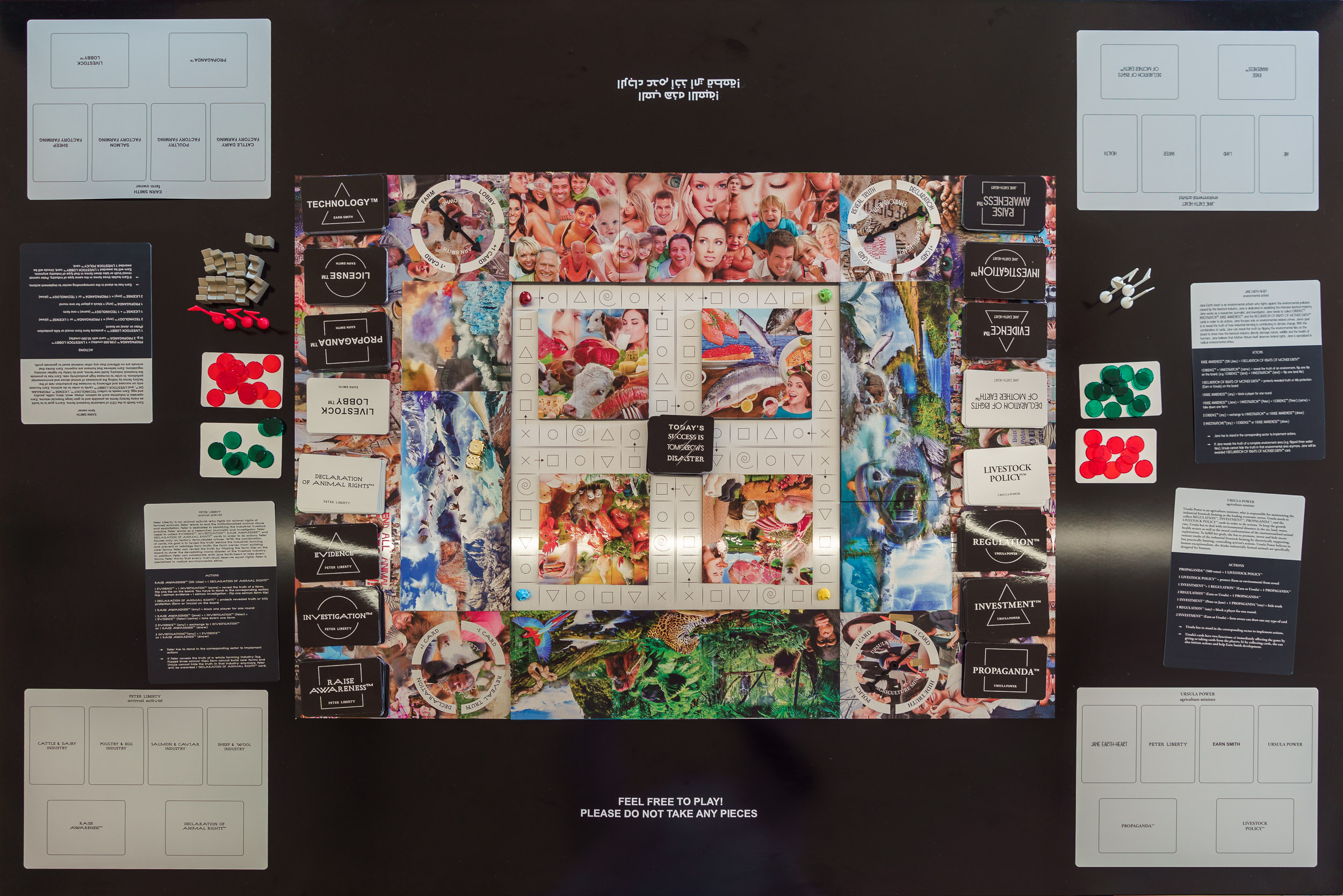 Today's Success is Tomorrow's Disaster is a board game that aims to demystify the complexity of meat production by revealing moral (animal rights) and man-made environmental disasters (climate change, extinction, epidemics..etc). Two capitalist players (agriculture minister & farm owner) strive to improve and maintain the economic growth of the livestock sector, and two activists (animal and environmental activist) investigate to sabotage the farm industry by revealing incriminating evidence of the endless exploitation. The game allows to demystify processes, understand positions, dynamics, hidden relationships. It is a fact-based but speculative, role-playing board game. The board game is not meant to give you solutions, it is a map to understand the dynamics of hopelessness.
Installation piece, object

This work exists as an installation piece that consists of the main board printed on an aluminum sheet and all related game elements (cards, tiles etc), video, and banners that represent the four characters. Together all the elements form a safe space where the exploration of the problem and debate on the issue can begin through roleplaying in form of board game play. Last time it was presented at Fikra Graphic Design Biennial:
Ministry of Graphic Design as part of the Non-Binaries department.
Prototype

The game is a solid prototype of the research. In the year of 2019, we will be working on developing the game mechanics with the support of a game designer, finetune the content and the characters of the game with the collaboration of specialists like the Animal rights expert, environmental consultant, agricultural Economist, factory farm manager. We would like to present the final piece by 2020.
Workshops

We facilitate educational play-sessions in art and design institutions as well as in schools.
Disclaimer: The game does not directly endorse or against any specific political, historical, cultural, psychological doctrine. It aims rather to formulate a critique against anthropocentrism and present a hopeless spectacle of the unsustainable design of the livestock industry. The game supports the value of discourse and debate in our times of radical ideological oppositions, social media bubbles, conspiracy theories (post-truth) and ecological crises.